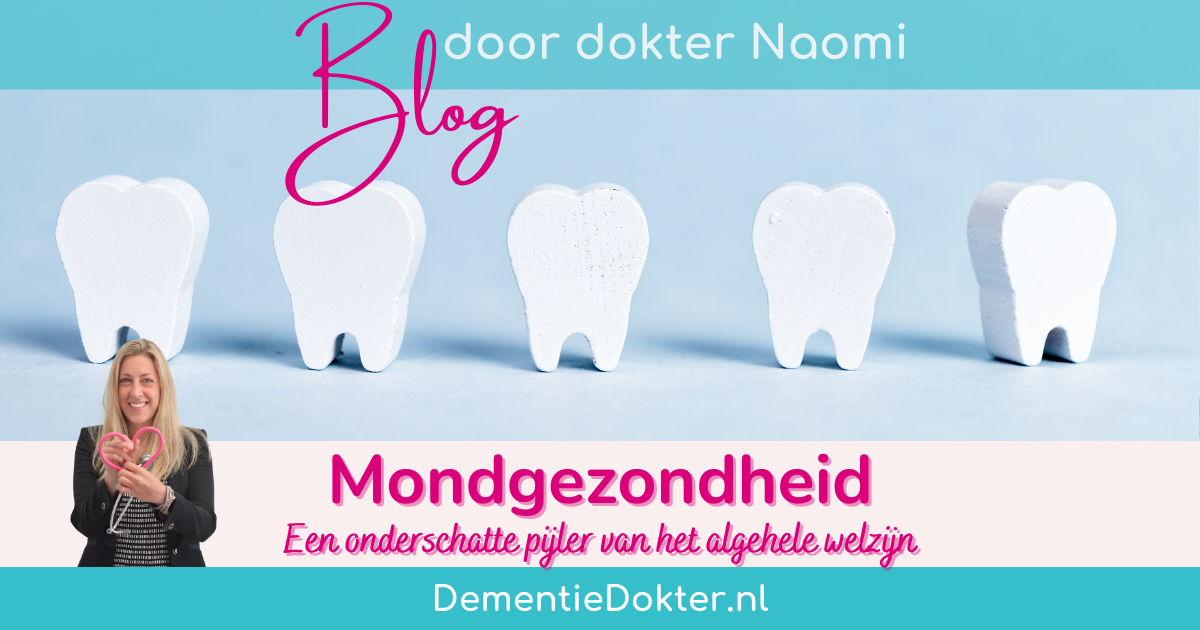 Het is me opgevallen, als huisarts, dat de mondgezondheid vaak over het hoofd wordt gezien als het gaat om onze algemene gezondheid en welzijn. Toch is het zo dat een goede mondgezondheid cruciaal is voor onze algemene gezondheid en levenskwaliteit. Dit geldt vooral voor oudere volwassenen, bij wie de mondgezondheid direct invloed kan hebben op hun vermogen om een volledig en gezond leven te leiden.
Waarom is mondgezondheid zo belangrijk?
De mond is het startpunt van ons spijsverteringsstelsel. Het is ook een belangrijk communicatiemiddel, waarmee we onze gedachten en gevoelens uitdrukken. Niet te vergeten, een gezonde mond draagt bij aan ons zelfvertrouwen en onze sociale interacties. Als onze mond gezond is, kunnen we genieten van de voedingsstoffen die we nodig hebben, duidelijk communiceren en vol vertrouwen glimlachen.
De impact van mondgezondheid op de algehele gezondheid
Maar mondgezondheid gaat verder dan alleen het vermogen om te eten, te spreken en te glimlachen. Er is steeds meer bewijs dat suggereert dat de gezondheid van onze mond nauw verbonden is met de gezondheid van ons hele lichaam.
Een studie gepubliceerd in de "Journal of Dental Research" heeft bijvoorbeeld aangetoond dat slechte mondgezondheid kan leiden tot een verscheidenheid aan gezondheidsproblemen, waaronder hartziekten, diabetes, en respiratoire aandoeningen[1].
Een andere studie in "The Lancet Neurology" toonde een verband aan tussen parodontale (tandvlees) aandoeningen en de ziekte van Alzheimer[2]. Parodontitis is een ernstige tandvleesaandoening die zonder behandeling tandverlies kan veroorzaken. Het verband met Alzheimer suggereert dat de bacteriën die parodontitis veroorzaken, kunnen bijdragen aan de ontwikkeling van deze verwoestende neurodegeneratieve aandoening.
Wat gebeurt er als we onze mond niet verzorgen?
Een slechte mondhygiëne kan leiden tot tal van mondgezondheidsproblemen, waaronder cariës (gaatjes), parodontitis, en mondinfecties. Dit zijn op zichzelf al ernstige aandoeningen die pijn, ongemak en tandverlies kunnen veroorzaken.
Maar zoals ik al eerder aangaf, kan slechte mondgezondheid ook een domino-effect hebben op de algehele gezondheid. Er zijn aanwijzingen dat bacteriën van een geïnfecteerde mond zich via de bloedbaan kunnen verspreiden en ontstekingen kunnen veroorzaken in andere delen van het lichaam. Dit kan bijdragen aan het risico op hart- en vaatziekten[3].
Een andere belangrijke overweging is het verband tussen mondgezondheid en dementie. Onderzoek gepubliceerd in "Journal of Alzheimer's Disease" suggereert dat slechte mondgezondheid het risico op dementie kan verhogen1. Bacteriën die parodontitis veroorzaken kunnen mogelijk in de hersenen terechtkomen en bijdragen aan de ontwikkeling van dementie. Dit versterkt het belang van regelmatige mondverzorging en tandartsbezoeken, met name bij ouderen.
Een gezonde mond is van fundamenteel belang voor de kwaliteit van ons leven. Het draagt bij aan onze voedingsstatus, onze sociale interacties en ons psychologisch welzijn. Wanneer onze mondgezondheid vermindert, kunnen deze aspecten van ons leven significant beïnvloed worden.
Bijvoorbeeld, ouderen met pijnlijke tandvleesaandoeningen of verlies van tanden kunnen moeite hebben met eten, wat kan leiden tot ondervoeding of het vermijden van bepaalde voedingsmiddelen. Dit kan een negatieve invloed hebben op hun fysieke gezondheid en levenskwaliteit.
Daarnaast kan slechte mondgezondheid leiden tot een verminderd zelfvertrouwen en zelfs tot sociaal isolement, vooral bij ouderen. Mensen die zich schamen voor de staat van hun tanden en mond kunnen aarzelen om te lachen, te praten of deel te nemen aan sociale activiteiten, wat kan bijdragen aan gevoelens van eenzaamheid en depressie.
Hoe kunnen we onze mondgezondheid behouden?
Het behouden van een goede mondgezondheid vereist reguliere en effectieve mondverzorging. Dit omvat het tweemaal daags poetsen van de tanden met fluoridetandpasta, het dagelijks reinigen tussen de tanden met floss of interdentale borstels, het regelmatig bezoeken van de tandarts en het vermijden van tabak en overmatig alcoholgebruik.
Het is ook belangrijk om aandacht te besteden aan voeding. Een dieet rijk aan fruit, groenten, volkorenproducten en magere eiwitten kan helpen om de tanden en het tandvlees gezond te houden. Suikerhoudende dranken en snacks moeten worden beperkt, omdat deze cariës (gaatjes) kunnen veroorzaken.
Slotoverwegingen
Als huisarts wil ik benadrukken dat mondgezondheid een integraal onderdeel is van onze algehele gezondheid. Het gaat niet alleen om het voorkomen van gaatjes en tandvleesziekten - het gaat ook over het behouden van onze kwaliteit van leven en het bevorderen van ons algemene welzijn.
De mond is de spiegel van het lichaam en weerspiegelt onze algehele gezondheidstoestand. Laten we die spiegel zo helder mogelijk houden.
Referenties
Chen, C. K., Wu, Y. T., & Chang, Y. C. (2020). Association between chronic periodontitis and the risk of Alzheimer's disease: a retrospective, population-based, matched-cohort study. Alzheimer's research & therapy, 12(1), 1-9. ↩
---
I help busy caregivers like you regain energy, happiness and time for self-care.