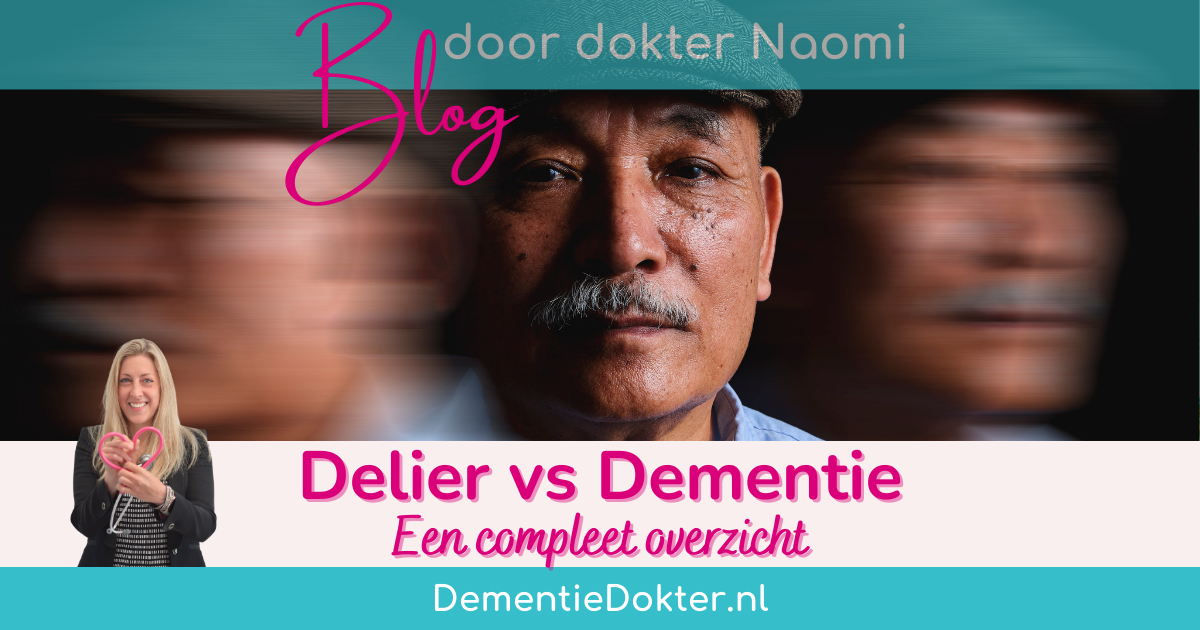 Een delier en dementie kunnen voor verwarring zorgen, zowel bij de patiënt als bij de zorgverleners en familie. Ondanks enkele overeenkomsten in symptomen, zijn deze twee aandoeningen verschillend in oorsprong, duur en behandeling. In deze blogpost gaan we uitgebreid in op wat een delier precies is, hoe je het kunt herkennen en hoe het zich onderscheidt van dementie.
Wat is een Delier?
Een delier is een acute, vaak tijdelijke, verstoring van de mentale functies, die leidt tot gedragsveranderingen. Dit kan zich uiten in onrust, agressie, hallucinaties en andere gedragsveranderingen zoals aan de huid of kleding plukken. Het kan ook leiden tot lusteloosheid en gebrek aan initiatief in het geval van een 'rustig delier', wat dus nog veel lastiger te herkennen is.
Kenmerken van een Delier
Acuut en Fluctuerend: Ontwikkelt zich in uren tot dagen en symptomen variëren gedurende de dag.
Gedragsverandering: Inclusief rusteloosheid, agressie en hallucinaties.
Omkeerbaar: Meestal te behandelen als de onderliggende oorzaak wordt aangepakt.
Hoe Herken je een Delier?
Om een delier te herkennen, kun je gebruikmaken van de Delier Observation Screening (DOS) schaal. Dit is een checklist met 13 items die zowel verbaal als non-verbaal gedrag observeert.
Stappen voor het Gebruiken van de DOS Schaal
Download de DOS Schaal: Hier beschikbaar.
Observeer en Noteer: Test drie keer per dag gedurende drie dagen.
Evalueer de Score: Een score van 3 of hoger wijst op een hoge waarschijnlijkheid van een delier.
In het geval van een score van 3 of hoger, is het belangrijk om onmiddelijk contact op te nemen met je arts.
Delier vs Dementie: Wat is het Verschil?
Terwijl een delier meestal acuut en omkeerbaar is, is dementie een chronische, progressieve aandoening die een geleidelijke achteruitgang van de cognitieve functies veroorzaakt. Dementie wordt meestal niet veroorzaakt door een directe, behandelbare oorzaak zoals een delier dat kan zijn.
Sleutelverschillen
Duur: Delier is tijdelijk; Dementie is chronisch.
Oorzaak: Delier heeft vaak een behandelbare oorzaak; Dementie meestal niet.
Behandeling: Delier is vaak omkeerbaar; Dementie is dat meestal niet.
Conclusie en Actiestappen
Als je te maken hebt met iemand die plotseling gedragsveranderingen vertoont, kan het een delier zijn. Gebruik de DOS schaal om te bepalen of er sprake is van een delier en neem zo nodig contact op met je arts voor verder onderzoek en behandeling.
Voer de observatie uit
Contacteer je arts bij een hoge score
Met de juiste diagnose en tijdige behandeling kan de situatie vaak omkeerbaar zijn in het geval van een delier, wat een groot verschil maakt in de kwaliteit van leven van de patiënt en de verzorgers.
---
I help busy caregivers like you regain energy, happiness and time for self-care.