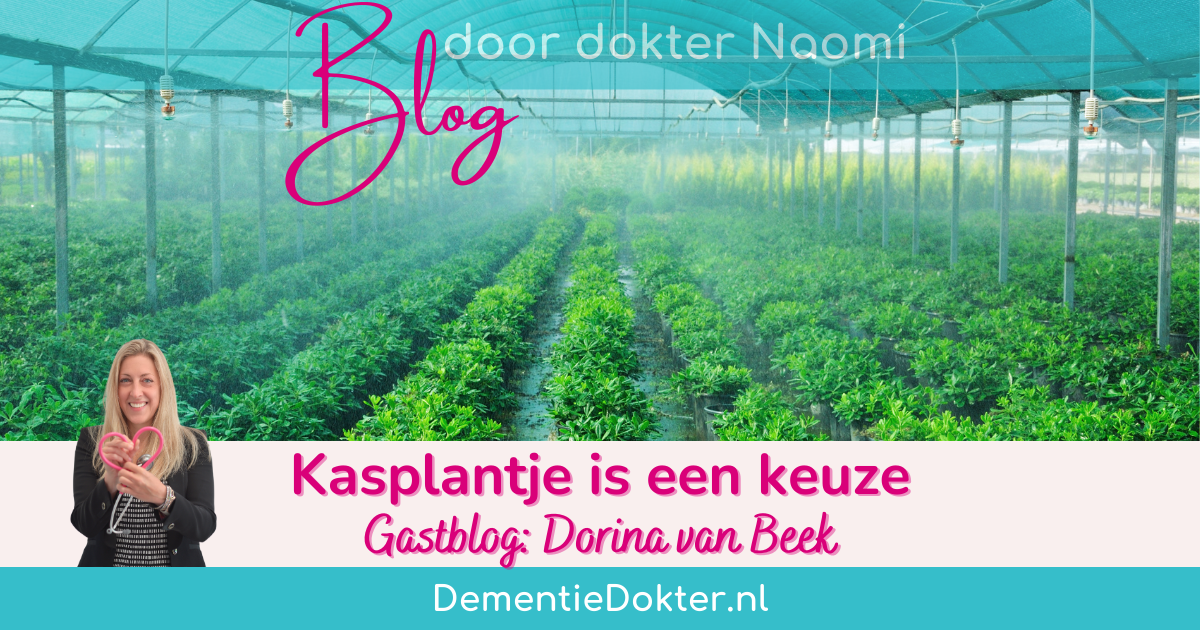 Even voorstellen: Dorina van Beek.
Dorina van Beek combineert haar werk in de zorg met een functie als bewindvoerder voor ouderen en levensexecuteur.
Door een tip van een van de andere ZorgMies locaties in Alkmaar, kreeg ik een gesprek met Dorina over wat haar nou had gedreven om Voor Morgen, waar je online je wilsverklaringen kan opstellen, op te richten.
Conclusie was vooral dat iedereen jaarlijks een update van zijn of haar wilsverklaringen zou moeten doen, op papier, of digitaal. Bespreek dit in ieder geval met je huisarts.
Verder is het ook handig om dit online vast te leggen zodat iedereen met de inloggegevens (zoals je vertegenwoordiger en (huis)arts) er op iedereen moment bij kunnen mocht het nodig zijn en dat je een reminder krijgt om het nog eens na te kijken. Want wensen en ideeën over het leven en de dood veranderen nu eenmaal door gebeurtenissen in je leven.
Speciaal naar aanleiding van het webinar "Wilsverklaringen, euthanasie en dementie" waarbij Dorina ook een bijdrage heeft geleverd, heeft zij deze blog "Kasplantje is een keuze" geschreven.
Kasplantje is een keuze
We worden allemaal ouder. Het liefst gezond.
Bewegen en gezond eten horen daarbij.
Leuke vakanties en reizen. Gezellige terrasjes met vrienden en (klein) kinderen.
Al die jaren hard gewerkt, en dan..... je welverdiende pensioen.
Vaak ook met voldoende inkomen. De toekomst ligt voor je.
Vanaf 2024 zijn er meer dan 5 miljoen mensen 65 jaar of ouder. Helaas krijgt 1 op de 3 vrouwen dementie (bron: Alzheimer Nederland). Dat betekent dat we allemaal wel iemand kennen die daarmee te krijgt. Je moeder, je tante, je zus, vriendin. Jaarlijks komen er 350.000 ouderen in het ziekenhuis terecht.
We weten allemaal dat dementie tot wilsonbekwaamheid leidt. Daardoor raak je de regie over je leven kwijt. Als je niets onderneemt loop je het risico dat je leven eindigt als een K A S P L A N T. Anderen bepalen welke zorg je krijgt.
Het kan anders
Je kan ook regelen dat jouw wensen vastgelegd worden, zodat je naasten en je arts weten wat jouw wensen zijn. Dat geeft rust voor jezelf en je naasten.
Maak een wilsverklaring. Daarin schrijf je op wat jouw wensen zijn. Denk aan wel of niet behandeld willen worden in bepaalde situaties, reanimatie, maar ook waar wil je verzorgd worden? Thuis in je vertrouwde omgeving. Door wie? Misschien heb je voorkeur voor bepaalde organisaties?
Je legt vast wat voor jou belangrijk is. Dan wijs je een vertegenwoordiger aan. Iemand die je kent en vertrouwd. Bespreek met je vertegenwoordiger en je naasten dat je een wilsverklaring hebt gemaakt en wat er in staat. Heel belangrijk, informeer je huisarts dat je een wilsverklaring hebt gemaakt en bespreek de inhoud.
Bij voor-morgen.nl kun je jouw een wilsverklaring digitaal maken, met een persoonlijke video. Daar is de wilsverklaring 24/7 op te stellen, aan te passen en altijd online in te zien. Voor-Morgen herinnert je er jaarlijks aan om je wilsverklaring opnieuw door te nemen en actualiseren. Zo blijft de wilsverklaring actueel.
En nu komt het mooiste
Je arts kan de wilsverklaring inzien en daardoor weet hij ook wanneer je die voor het laatste hebt opgesteld.
Ga je voor het K A S P L A N T J E of neem je regie?
Ik zou het wel weten........................
Wil je het webinar "Wilsverklaringen, euthanasie en dementie" terugkijken? Dat kan hier>>>
---
I help busy caregivers like you regain energy, happiness and time for self-care.