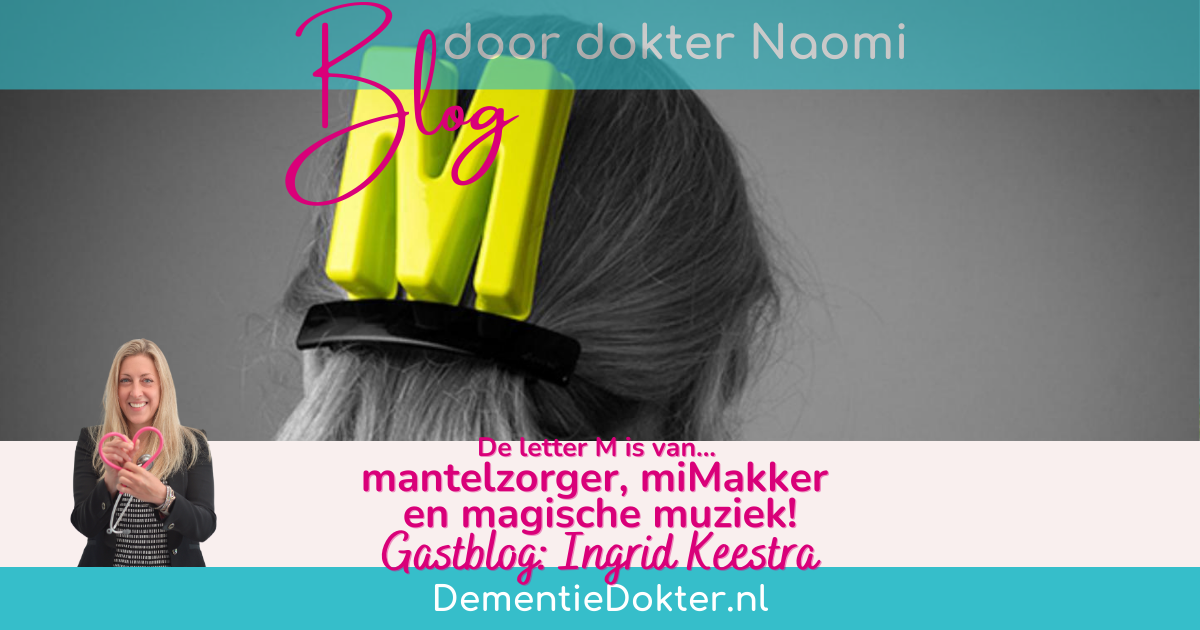 Even voorstellen: Ingrid Keestra
Ingrid is de auteur van "Mantelzorger der Liefde – Een positieve gids voor mantelzorgers bij dementie" en het net uitgebrachte "Het Mantelzorger-Alfabet – Dingen waar je als mantelzorger tegenaan loopt".
Toevallig kwam ik Ingrid tegen op een online medialunch. Heerlijk als je gelijkgestemden ontmoet. We hebben allebei een soortgelijke missie: een positieve draai te geven aan mantelzorgen. Het leven is al zwaar genoeg.
En speciaal voor het webinar van aanstaande vrijdag: Muziek, Blij Brein en Dementie, heeft Ingrid deze blog over muziek ter beschikking gesteld. Geniet van het lezen!
De letter M is van... mantelzorger, miMakker en magische muziek
Over het woord 'mantelzorg' hoor ik de laatste tijd regelmatig wisselende geluiden. Sommige mensen vinden het een overbodig woord: ze voelen zich helemaal geen mantelzorger, maar zijn 'gewoon' de vrouw van, of de zoon van iemand waar ze graag voor zorgen. Anderen hebben zelfs een hekel aan het woord, omdat het lief en warm klinkt, terwijl het moeilijk en zwaar is.
Wat mij betreft is het echter een prima woord, omdat het ons zo de mogelijkheid geeft om deze mensen als groep aan te duiden en er zo gemakkelijker aandacht voor te kunnen hebben en vragen. Zelf heb ik de variant 'Mantelzorger der liefde' bedacht, omdat wij het allemaal immers uit liefde doen! En het is mijn bedoeling dat het woord liefde in deze door mij gekozen boektitel niet alleen gegeven wordt aan je dierbare, maar ook ruimschoots aan jezelf.
Neem die tijd en aandacht voor de ander, maar zorg ook voor je eigen ontspanning. Dan hou je het namelijk langer vol. En daar vaart iedereen wel bij. HOE KAN HET LEVEN VAN MANTELZORGERS LEUKER GEMAAKT WORDEN? Hoe kan het leven van mantelzorgers bij dementie nu wat leuker gemaakt worden?
De sleutel daartoe ligt in mijn optiek in je erin verdiepen. Meer kennis vergaren over dementie helpt om het gemakkelijker en daardoor ook leuker te maken om met je dierbare met dementie om te gaan. Ga bijvoorbeeld eens naar een Alzheimer Café bij jou in de buurt. Deze worden georganiseerd vanuit Alzheimer Nederland en hier kun je vinden waar bij jou in de buurt ze gehouden worden:
Ook worden er in verpleeghuizen wel familie-avonden gehouden en je kunt ook gebruik maken van e-learningmodules via YouTube of serious gaming. Natuurlijk kan ook de rol van de huisarts of de case manager hieraan bijdragen. Overigens zou dat mantelzorgerschap zich niet puur hoeven te beperken tot het gezin of de familie, aldus kaderarts geriatrie Herman Wisselink in mijn boek. Dat netwerk mag veel groter zijn en ook gerust buren, vrienden en kennissen bevatten. Hij roept dan ook graag op tot een ruimhartiger betrokkenheid van allen in onze samenleving.
miMakkers
Een goed voorbeeld van deze betrokkenheid vind ik de 'mi-Makkers'. Dat zijn opgeleide specialisten in de miMakkusmethode. Zij zijn professionals in het belevingsgericht contact maken. Ze doen dat door ruim tijd en aandacht te hebben voor de mens, het individu: te volgen en mee te buigen. Dit kan zijn door woorden, klank, maar kan ook prima non-verbaal, in spel, bijvoorbeeld met handpopjes of met muziek! Wil je er meer over weten?
Ik denk dat er geen ander medium zo goed is om communicatie op gang te brengen en voor plezier te zorgen als muziek! Veel mensen houden zich bezig met muziektherapie voor mensen met dementie om het levensgeluk te verhogen. Veel in het nieuws is op dit moment Erik Scherder, daarnaast wil ik hier Ignar Rip noemen en Machgiel Bakker. De laatste ontwikkelde 'de Soundtrack van je leven': een blauwdruk van iemands leven in muziekstukken.
Het samen naar muziek luisteren en/of meezingen kan veel plezier opleveren en bovendien mooie herinneringen terug laten komen. Er bestaat zelfs een speciaal online radiostation voor mensen met dementie: Radio Remember. Zij beogen met vertrouwde muziek de mentale gezondheid van mensen met dementie te verbeteren.
Je kunt zelf gewoon simpel beginnen. Zing samen met jouw dierbare bekende, oude liedjes. Of als je niet zo'n zanger bent, zoek op Spotify liedjes op en beluister deze samen. Het geeft vaak een gevoel van gezelligheid en geborgenheid. Soms levert dat magische momenten op, waarin opeens hele lappen tekst weer naar boven komen en op de juiste melodie meegezongen kunnen worden! Kerstliedjes zijn hier bijvoorbeeld heel geschikt voor, oude en nieuwe. Mijn moeder houdt al haar hele leven erg van 'White Christmas' van Bing Crosby. Die ga ik dan ook zeker voor haar draaien de komende weken!
Met Mantelzorger der liefde-groet,
PS Wil je Ingrid's 📚 boek(en)?
---
I help busy caregivers like you regain energy, happiness and time for self-care.