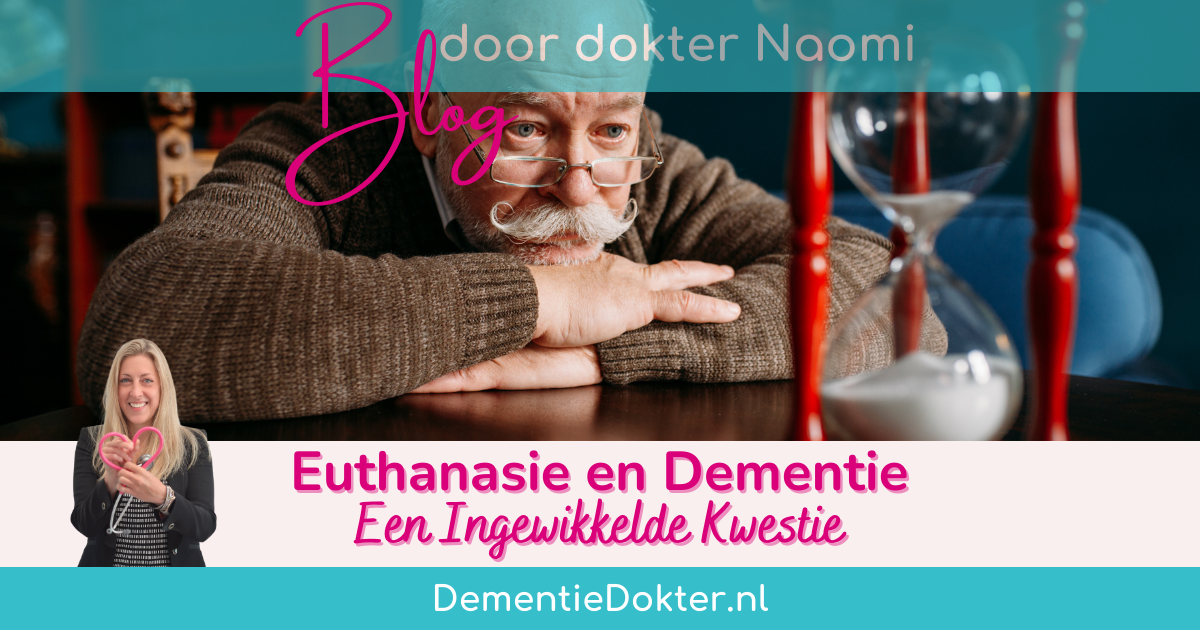 Het onderwerp euthanasie roept veel vragen en emoties op, vooral als dementie in beeld komt.

Euthanasie is geen normale zorg, blijft (gelukkig) een bijzondere handeling en is geen recht.

In dit blog vertel ik over de complexiteit rondom euthanasie en dementie, en geef ik je inzicht in de wettelijke mogelijkheden en beperkingen.
Het Taboe Doorbreken
Het levenseinde is een onderwerp dat vaak wordt vermeden, zelfs door sommige huisartsen. Als je behoefte hebt om hierover te praten, neem dan zelf het initiatief. Dit maakt het voor de arts ook makkelijker om het gesprek aan te gaan.
Euthanasie: Een Overzicht
In Nederland is euthanasie over het algemeen goed geregeld. Het is een bijzondere handeling met strikte regels, maar geen recht. Als arts heb ik hier een goed houvast aan, vooral als iemand bijvoorbeeld bij kanker uitzichtloos en ondraaglijk lijdt.
De Complexiteit bij Dementie
Bij dementie wordt het ingewikkeld. De wet vereist onder andere een herhaaldelijk verzoek om euthanasie door de patiënt zelf, wat bij dementie problematisch kan zijn.
Eigen ervaring
Ik heb in mijn familie twee oma's gehad met Alzheimer en een opa met Parkinson met een dementieel beeld. Ik heb hen zien aftakelen, veel angsten zien hebben, zich eenzaam zien voelen. Hartverscheurend was het als je je oma weer moest "wegstoppen" of achterlaten achter gesloten deuren op de gesloten PG afdeling. In die tijd (jaren negentig), was er nog niet veel sprake van euthanasie en het kwam bij mijn zwaar gereformeerde opa en oma al helemaal niet in hen op als optie.
Zo krijg ik soms patiënten op het spreekuur die al willen vastleggen dat zij euthanasie willen in bepaalde omstandigheden. Ze willen bijvoorbeeld niet als een kasplantje door het leven gaan, mocht er "ooit IETS gebeuren".
Zo heb ik veel discussies gevoerd over niet behandelen na een ongeluk (dit was vooral in de tijd toen prins Friso het ski-ongeluk in Oostenrijk kreeg), geen sonde voeding meer geven en dergelijke waarbij je rustig versterft; tot palliatieve sedatie en euthanasie. In de wet staat echter beschreven dat euthanasie alleen kan als je er zelf herhaaldelijk om vraagt en daar wordt het lastig in bepaalde situaties.
Bij dementie blijft het moeilijk en onder artsen is hier vaak een discussie over. Ik zal hier straks een voorbeeld over geven waarom. Ik weet ook nog wel toen wijlen minister Borst een groot voorstander was van dat artsen euthanasie moeten toepassen bij "demente bejaarden" als die dat hebben vastgelegd voordat ze dementie kregen. Mijn ervaring is dat als je er bij een patiënt naar vraagt, die in het begin stadium van dementie zit en die het van te voren heeft vastgelegd, ze het vaak nog even willen uitstellen. Er is nog een geboorte van een (achter)kleinkind, of een familielid uit een ander land komt weer even naar Nederland, een kleinkind dat promoveert en ga zo maar door. Je ziet dat patiënten hun grenzen vaak verleggen.
Een gesprek met een van mijn patiënten
Zie zo ook onderstaand gesprek die ik ooit met een patiënt die net tekenen van dementie ontwikkelde, heb gehad:
"Nu nog niet, als het erger wordt. Mijn kleindochter gaat ook nog bevallen en ik wil mijn eerste achterkleinkind zien".
Als ik later vraag: "Hoe zit het nu met de euthanasie?" Dan ontspint zich vaak het volgende gesprek:
Ik: "Dat wilde u als u dement zou worden".
"Nee, nu niet hoor; nu wil ik een koekje".
"Dus u wilt nu nog geen euthanasie".
"Dan doen we het nu nog niet".
"Wat? Als u het wilt, doet u maar hoor. U weet het 't beste". Enzovoorts…
Dan kun je gewoon geen euthanasie meer uitvoeren. Als de familie er bovenop springt van: "Dit had vader/moeder nooit zo gewild", wordt het echter wel dubbel lastig voor de arts. Veel gehoorde uitspraken van de familie zijn ook: "zo laat je een hond nog niet eens lijden".
De Juridische Nuances van Euthanasie bij Dementie Uitgelegd
Ik probeer dan altijd uit te leggen hoe de wet in elkaar steekt.
De wet zegt dat euthanasie mag worden toegepast, indien er sprake is van uitzichtloos en ondraaglijk lijden. Dat kan invoelbaar zijn bij dementie. Er moet ook een herhaaldelijk verzoek om euthanasie zijn, dóór de patiënt zelf (en dus niet door de familie, ook niet bij een volmacht, mentorschap of iets dergelijks). Bij iemand met dementie is dat erg moeilijk. Deze vergeet ook dat hij of zij het moet vragen. Als er ook maar enige twijfel is over de wilsbekwaamheid van de patiënt, is het ook al niet mogelijk.
Een wilsverklaring opstellen is op zich goed, omdat je hierdoor nadenkt over wat je wel en niet zou willen. Aan de wilsverklaring kunnen echter geen rechten worden ontleend. Ook als je géén wilsverklaring hebt en je wilt euthanasie, is dit mogelijk als je aan de voorwaarden voldoet. Het gaat om een "dossieropbouw" bij de arts, waarin de gesprekken met het herhaaldelijk verzoek wordt omschreven.
Conclusie
Euthanasie en dementie zijn complexe onderwerpen die veel vragen oproepen. Het is belangrijk om je wensen zo vroeg mogelijk te bespreken en te documenteren. Het is moeilijk, en blijft moeilijk, maar als je er te laat aan begint, wordt het nog moeilijker.
NB in onderstaand filmpje zie je hoe de dochter van een dame met dementie haar wil op video heeft vastgelegd. Hiermee kun je euthanasie nog steeds niet afdwingen. Het geeft echter wel mooi de wens weer. En het kan ook de arts in zijn of haar beslissing helpen.